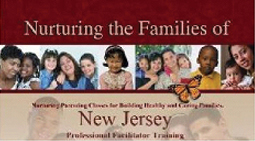 Multicultural Community Services, Inc. dba
Family Nurturing Center of
New Jersey
www.multiculturalcommunityservices.org


Mission Statement
Multicultural Community Services provides competent, bilingual, community-based human services and educational programming that promotes and improves the quality of life. We believe that diversity broadens and enriches our social, cultural, educational and community perspectives and deepens our appreciatio...
Location
Edison, New Jersey

Director
Allison Shorey,
Executive Director
732.650.0330
allisonshorey@aol.com

Contact
732.650.0330
Family Nurturing Center of Central New York
A Division of Kids Oneida, Inc.
www.fnccny.org
Mission Statement
To enhance personal development, relationships and family functioning through nurturing interactions; To empower children, adolescents and adults through education to live healthy, fully functioning lives; and To promote the well being of the individual, family and community through educational services and information...
Location
Utica, New York

National Trainers/Consultants
Margaret Kojac

Contact
admin@fnccny.org
315.738.9773