Resource Materials for Trainers/Consultants
---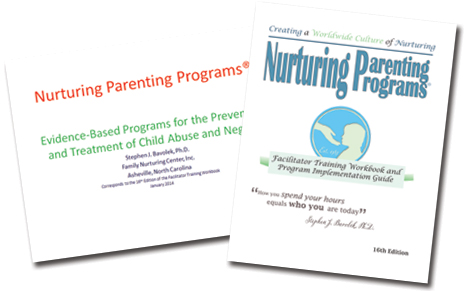 Nurturing Parenting Programs: Evidence-Based Programs for the Prevention and Treatment of Child Abuse and Neglect PowerPoint Corresponds to the Facilitator Training Workbook.
Download PowerPoint (PPT - 11 MB)
Corresponds to:
Download Facilitator Training Workbook (PDF - 10 MB)
---
Nurturing Parenting Programs meet and exceed the Six Protective Factors identified by the government for the prevention and treatment of Child Abuse and Neglect. The below articles provide you with additional information for grant applications.
Feel free to make copies for distribution, to forward to your state CAN agencies, to review at meetings, to send to state and federal congressional leaders.

Nurturing Parenting Programs are Building Protective Factors in Families (PDF - 1.5 MB)
Nurturing Parenting Programs & Strengthening Families (PDF - 69 KB)

Nurturing Parenting Programs Comprehensive Review (PDF - 550 KB)
---
Helpful Links: Dr. Bavolek's PowerPoint Presentations • Research & Validation Studies