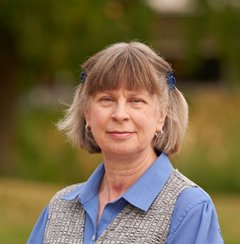 Gail M Knipshild, MA #282
Gail Knipshild, MA has been providing adult training since 1999 when she was invited to facilitate the preservice trainings mandated for all foster and resource parents in the state of Missouri. The fostering and subsequent adoption of her child from the state's welfare system gave her a front row seat to experience the lifelong impact on development when a child has been exposed to early childhood trauma. She wishes that she knew then what she knows now about trauma and is passionate about helping parents in their parenting journey. In addition to training for the Children's Division, Gail has trained the STARS program for multiple private agencies in the region, relishing the chance to better inform families in their decision to parent a child with a difficult start.
Gail is a firm believer that the power of psychoeducation is an underutilized tool, and in her current position of Program Manager for Education and Adoption at FamilyForward has collaborated on and developed dozens of training curriculums geared toward the unique issues in the foster and adoption community.
Gail has worked with FamilyForward (previously Children's Home Society of Missouri) since 2008 where she honed her skills in home assessments and parent education on navigating the challenges of caregiving and embracing the growth that members must undergo to achieve a healthy family life. She was first introduced to Nurturing Parenting when trained by Stephen Bavolek, PhD., as a facilitator and trainer for Children's Home. Gail has utilized the Nurturing Parenting® Program in a variety of settings and finds the examination of an adult's own childhood experiences essential to facilitating change in their current parenting approaches.
Gail is certified in STARS/Spaulding and SAFE, (evidenced based home assessments). She was a 2016 recipient of the Stepping Up for Kids award given by the St. Louis Family and Community Partnership and has provided presentations to diverse groups of professionals including social workers, attorneys, nurses, educators and first responders. Gail's humor, forged in the furnace of parenting, is shared with her husband Matt of 39 years.