Jennifer Moss, MA, MFT #84
Jennifer Moss is a Portland, Oregon based Nationally Recognized Nationally Recognized Nurturing Parenting® Program Trainer/Consultant. Jennifer left Hawaii after serving as the island coordinator for all of Maui County's Nurturing Parenting Programs in the last seven years. Although Jennifer works primarily in private practice now, she was the Co-Founder of the Family Nurturing Center of Maui.

Jennifer lived in Hawaii for over ten years. Originally from New York, she had become more accustomed to island life and has always felt strongly pulled to make a difference for families. She has stated that "No matter what color skin or how many years married or separated, parenthood is our common thread." Jennifer is committed to helping families realize their potential and support them during the sometimes painful process of changing and growing.
She has facilitated countless Nurturing Parenting classes, pioneering several of the Nurturing Parenting Program on Maui. In addition to bringing Nurturing Fathering and the Marriage & Parenting Programs to the island, Jennifer has developed self development programs and skill based seminars geared towards families, child care providers and educational and mental health professionals as well as community-based organizations. As a Nationally Recognized Trainer/Consultant for the Nurturing Parenting Programs, Jennifer is trained and recognized to represent Nurturing Programs, providing training, public speaking, and consultation on successful program implementation and parenting assessments. Jennifer is on several committees and organizations that support alternatives to violence and zero tolerance for child abuse and neglect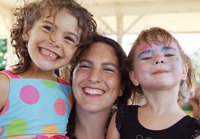 Jennifer has worked with adolescents and taught life skills and sex education programs to parents, children and young adults with developmental challenges. Prior to moving to Portland, she had worked on the island crises hotline as well as facilitated several support and psycho-educational groups for families dealing with domestic violence, substance abuse and sexual abuse. In addition, Jennifer also facilitated outpatient groups for women struggling with eating disorders and trauma.
Lastly but most importantly, Jennifer is the single mother of two children. With humor inconsistent grace, and knowledge, she relies on her own experiences of nurturing parenting and in her own words, is "continuously creating the parenting survival tool kit".