A game for adults and children ages three years and older, to increase self-awareness, appropriate use of personal power, and communication skills. Participants respond to questions regarding awareness of self, feelings, giving and receiving praise, and practice appropriate touch.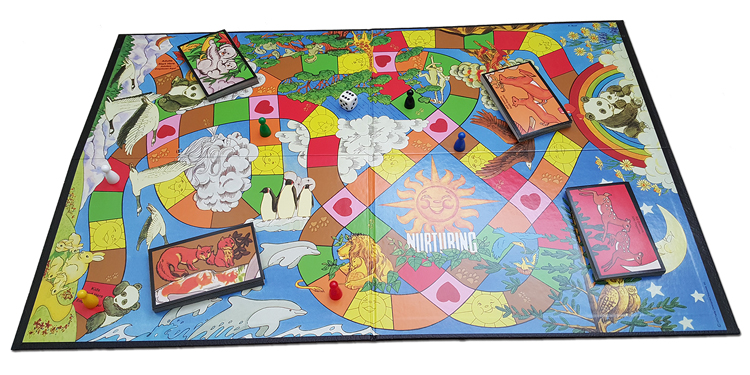 The Nurturing Board Game teaches adults and children to learn how to use their personal power to make good choices, get along better with other adults and children, become aware of themselves and others, praise themselves and others and use gentle touch.
Family members learn to communicate with each other by sharing their thoughts and feelings. Learn about caring for oneself and others.

Each Nurturing Game contains cards and directions that are printed both in English and Spanish.

This Item is Used in the Following Program(s):
Parents & Their Children with Special Needs & Health Challenges
Developing Nurturing Skills (DNS): School-Based Program
Nurturing Skills for Families
Parents & Their Infants, Toddlers & Preschoolers - 16 Sessions
Parents & Their School-Age Children 5-11 Years
Young Parents & Their Families
Hmong Parents & Adolescents
It's All About Being a Teen
Teen Parents & Their Children
Parents & Their Infants, Toddlers & Preschoolers - Comprehensive
Spanish Speaking Parents & Their Children Birth to 12 years
Spanish Speaking Parents & Their Children 4 to 12 years