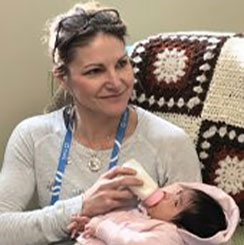 Holly Golanowski, RSW #283
Holly was born and raised in Calgary, Alberta and started her Social Work studies at Mount Royal University. Holly took her education and rooted herself in Vancouver, British Columbia, starting her career in the field of Social Work at the Burnaby School Board District, working in an Integrated Behavior Program. During this time, she also worked with Ministry for Children and Families and offered Level 3 care to Indigenous foster children.

After 15 years of coastal living, Holly moved back to her Calgary roots and continued her work at CUPS as a Nurturing Parenting® Program Facilitator. Holly also works for Calgary Child Abuse Association facilitating Court Preparation for children and youth. Because that isn't enough to keep Holly busy, she also works as a Home Study Assessor, approving potential foster parents to open their homes to children and youth.