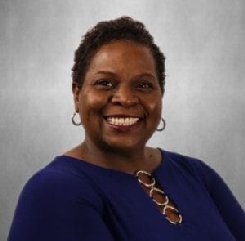 Brenda McGowan, F.L.E, MPA #213
Brenda McGowan is a Nationally Recognized Nurturing Parenting® Program (NPP) Trainer/Consultant who has worked cross culturally to train thousands of mental health professionals, Pre-K-12 educators, child welfare workers, residential treatment program staff and organizational leaders in twenty-four countries to build a worldwide culture of nurturing. Brenda completed her NPP Facilitator Training in 2001. She became a NPP Nationally Recognized Trainer/Consultant in 2012.

She began her career in family life education and advocacy while serving as chairperson of the Education Support Agency. She worked alongside superintendents, Intermediate school districts, and early childhood education and care advocates to improve family well-being and build equity in education. In 2004 she began to serve the countywide human services commission as a Parent Liaison with the Great Start Collaborative Parent Coalition to train and engage parents in advocating for critical early childhood and care services. This statewide movement eventually became the foundation for the Michigan State Office of Great Start.

In 2013 Brenda accepted the call to action to build collaborative and nurturing communities with continuum of care providers to eradicate the cradle to prison pipeline through evidence-based, trauma informed and family centered parenting education that reduces child abuse and neglect. This passion led her to train staff and volunteers to establish Nurturing Parenting® Programs in prisons and residential treatment facilities. Today staff and volunteers facilitate groups in Georgia state prisons for adults, and residential treatment facilities for teen parents within the Department of Juvenile Justice. As a national director of church and community engagement, Brenda continued to collaborate with and build the capacity of church leaders to eradicate the "cradle to prison pipeline" through mentoring children whose parents are incarcerated. In 2018 she became vice-president of domestic and international programs providing oversight and building capacity of leaders and over 5000 mentors around the world to implement nurturing and sustainable restorative justice programs.

Brenda has since become certified to facilitate Cultural Intelligence (CQ) workshops. She collaborates with individuals and organizational leaders to build their capacity to function across both domestic and international cultures to increase family cohesion, engagement and nurturing parenting skills. Brenda holds a BA in Family Life Education from Spring Arbor University and a Master of Public Administration from Walden University.

She enjoys her time at home in Georgia nurturing her plants and a 29-year marriage to Robert, 4 adult children and 5 grandchildren.