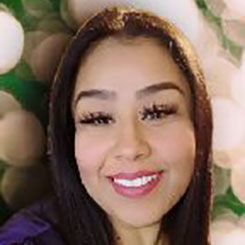 Mayra Gonzalez-Sanchez #254
Mayra Gonzalez-Sanchez was born and raised in South Central Los Angeles, California. Coming from a low income family and with limited resources, going to college or a university was a low probability. Despite all odds, Mayra was able to attend California State University, Los Angeles where she received a Bachelor's degree in Child Development. In 2019, Mayra received her Master's degree in Psychology with a focus in children and adolescents from The Chicago School of Professional Psychology. Mayra is recognized by California Center for Infant-Family and Early Childhood Mental Health in Sacramento as an Advanced Transdisciplinary Infant-Family and Early Childhood Mental Health Practitioner. Mayra is also a Community Level Trainer for the Brazelton's Touchpoints.

Mayra's journey as a professional began in 2007 as a teacher for an early intervention center. Although Mayra enjoyed what she was doing as an educator, she learned that working with the whole family and supporting parents was where her passion was. Hence, in 2010, Mayra fulfilled the role as the Child Development Coordinator at Para Los Niños under the Partnerships for Families program; child maltreatment prevention program. As the Child Development Coordinator, Mayra provides support to parents in understanding their children's development. Additionally, Mayra facilitates Nurturing Parenting® Program classes, Mommy and Me classes, facilitates social skills group for school aged children, and facilitates a domestic violence support group for victims.

Mayra was trained in the Nurturing Parenting® Programs by Dr. Stephen Bavolek in 2012. After a few years of facilitating both NPP classes for parents and the NPP children's group, Mayra trained in 2015 as a Nationally Recognized Nurturing Parenting Program Trainer/Consultant. Since 2015, Mayra has trained a wide range of professionals and agencies in the Nurturing Parenting Programs. Mayra supports agencies in Los Angeles County implement the Nurturing Parenting Programs. Mayra is also responsible for the full implementation of the Nurturing Programs at Para Los Ninos's different programs and sites. Mayra provides bi-weekly reflective supervision for all PLN staff who are recognized as facilitators. Mayra also offers, specialized trainings for Nurturing Parenting Facilitators: Nurturing Father's Program, and the Nurturing Program for Parents and their Children with Special Needs and Health Challenges.

Lastly, one of the biggest rewards that Mayra has received while growing as a professional is the opportunity to implement the Nurturing Parenting® Programs at home with her two children and husband.