Nurturing Parenting Online Training Video
This video is not meant for certification in the Nurturing Parenting Programs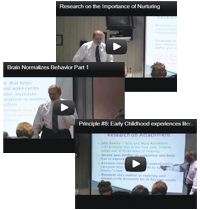 View the Online Training Video:
-Three Day Nurturing Program Facilitator Training - Day 1
-Three Day Nurturing Program Facilitator Training - Day 2
-Three Day Nurturing Program Facilitator Training - Day 3
The purpose of the Nurturing Training Online Video is to be a resource to you and your staff in learning how to utilize the assessments and programs published by Family Development Resources, a leader in the prevention and treatment of child abuse and neglect.

The Nurturing Program Training Online Video shows a three day training on the Nurturing Program that Dr. Bavolek conducted in Craven County, North Carolina, February 7 - 9, 2012. The training will assist viewers in understanding the development, philosophy and key principles of the Nurturing Parenting Programs.

An on-line video training can never take the place of attending a live training. This video is not meant to supplant your involvement in one of our Nurturing Parenting trainings, rather to supplement your training experience.
There are several ways we hope this video can be of value to you:
After attending one of our Nurturing Program Facilitator trainings, review the information on the video to reinforce your knowledge of the philosophy of the Nurturing Parenting Programs.

Watch the video before the training and come prepared to discuss the concepts presented. Be a step ahead of the others.

Use the video as a supplement in training new staff at your agency, or staff who couldn't attend the training.

Use parts of the video to show parents during one of your sessions. Match the lesson you're teaching with the relevant clip from the video. It also provides the parents with a "visual" of the author. That's always fun.

To assist the dedicated Home Visitors in the Army and Navy's New Parent Support Programs implementing the Nurturing Parenting Programs in military installations worldwide.