1/29/2016
-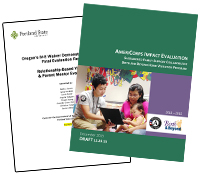 View All Research and Validation Studies
Birth and Beyond AmeriCorps study from 2013 to 2015 utilizes quasi-experimental research design to measure pre-post impact of the Nurturing Parenting Program with longitudinal follow-up data.
The Nurturing Parenting Program utilized was primarily Parents and their Infants, Toddlers and Preschoolers... Read More
The Oregon's IV-E Waiver Demonstration Project assesses two innovative service models for families in the child welfare system:
1. Relationship Based Visitation (RBV)
2. Parent Mentoring (PM) using RCT research design.
The Nurturing Parenting Program utilized was primarily Parents and their School Age Children... Read More