8/10/2015
-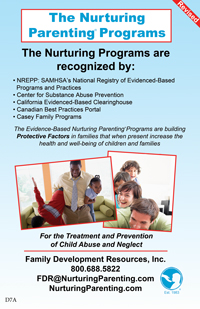 What is very unique about the Nurturing Programs is the foundation of the teachings is based on the known practices of child maltreatment:
Inappropriate Expectations, Parental lack of Empathy, Strong Belief in the use of Corporal Punishment, Reversing Parent-Child Roles; and Oppressing Children's Power and Independence.
The Nurturing Programs are family-centered trauma-informed initiative based programs that, with partnership with other agencies, can work at changing all the family patterns that are contributing to maltreatment, including mental health issues, domestic violence, alcohol and drug addiction, and economic poverty.
The long term goals are to prevent recidivism in families receiving social services, lower the rate of multiparent teenage pregnancies, reduce the rate of juvenile delinquency and alcohol abuse, and stop the intergenerational cycle of child abuse by teaching positive parenting behaviors. The Nurturing Parenting Programs are evidenced based parenting programs that can be offered in a group setting, a home setting or in a combination of group and home settings... Read More
Document Download (PDF): "What Makes Nurturing Programs Unique?"