6/15/2015
-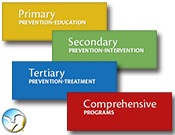 The Nurturing Parenting Programs are designed for the prevention and treatment of child abuse and neglect.
To meet the specific needs of families, programs have been identified according to the standard levels of prevention: Primary, Secondary (intervention) and Tertiary (treatment).
Primary Prevention-Education Programs are designed to empower individuals and families with new knowledge and skills.
Secondary Prevention-Intervention Programs are designed for at-risk youth, teen parents & families experiencing moderate levels of dysfunction.
Tertiary Prevention-Treatment Programs are designed for families referred for parenting education by Mental Health/Social Services.
Comprehensive Programs are designed for agencies to offer long-term, more comprehensive parenting education.