3/5/2014
-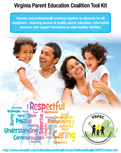 Ever wonder why some parents go to parent education classes and their children are still at risk?
Sometimes we assume the parent didn't participate fully but it could be they were not referred to the level of class to best meet their needs.
The Virginia State-Wide Parent Education Coalition (VSPEC) is a professional organization.
VSPEC is comprised of members in the public and private sectors who work with families and/or conduct parent education classes, has developed this Parent Education Toolkit to help you determine whether the classes meet the needs of the person you are referring to attend them.
The Toolkit defines three types of parenting education and describes the population served as well as the recommended expertise of providers of the services.
The Toolkit can be downloaded on the VSPEC website:
vahealth.org
VSPEC encourages those who refer parties to parent education to locate appropriate providers in their area and, using the Toolkit as a guide, to find out the population that can most benefit from what they have to offer.
To request additional information or to provide feedback on the Toolkit, please contact: Johanna Schuchert at:
vspecinfo@pcav.org